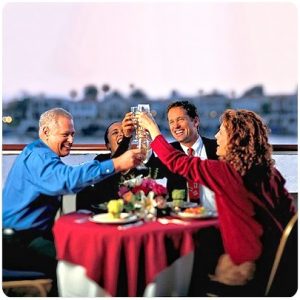 – BOOK RESERVATIONS NOW – 
Savor, indulge and unwind on our romantic Marina del Rey Champagne Brunch Cruise! Enjoy the finest in gourmet cuisine, surrounded by spectacular bay views on one of our magnificent yachts. Whether it's a romantic brunch for two, a birthday celebration or just because, we promise you an unforgettable experience.
Marina del Rey is the world's largest man-made small craft harbor, carved from the natural estuary of Playa del Rey. The resort area that has grown around this wonderful recreational resource includes several large parks and hosts many annual events, including an art festival, sailing regattas, and the Christmas Parade of Lights.
Our Marina del Rey Champagne Brunch Cruise offers a relaxing selection of background music indoors and a narration of the harbor on the outside decks.
Brunch service begins approximately 30 minutes after leaving the dock. Service is leisurely to provide time to take in the sights or stroll the decks. Each cruise has vegetarian options.
Sample Menu
– Croissants and Muffins served with Fruit Preserves & Butter
– Mixed Green Salad with Vinaigrette
– Mediterranean Orzo Salad and Marinated Mushroom Salad
– Sliced and Whole Fruit Display
– Breakfast Potatoes with Onions and Peppers
– Bacon and Sausage
– Scrambled Eggs with Herbs and Cheese, Huevos Rancheros
– French Toast with Maple Syrup and Whipped Butter
– Cakes, Tortes and Assorted Pastries