The History of Marina del Rey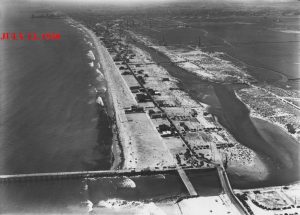 Marina Del Rey is the largest man-made harbor in the United States. As one of Southern California's most prized recreational areas, Marina del Rey is the realization of a dream that spans more than 100 years. What began as the vision of a 19th century real estate speculator has endured bankruptcy, unsympathetic government reports, two world wars and mother nature, to become a popular destination for day visitors, tourists, water sports enthusiasts and business travelers.
It all began in 1887 when real estate developer, M. C. Wicks envisioned turning the Playa del Rey estuary into a major commercial harbor. Working under the auspices of the Santa Fe railroad, Wicks' Ballona Development Co. invested $300,000 to develop the area but went bankrupt three years later.
A visitor to the estuary in those days would have found no sailors, but plenty of duck hunters. A quarter of a century later, nothing much had changed. In 1916, the U. S. Army Corps of Engineers reported that it was impractical to develop the Playa del Rey inlet and basin as a major harbor.
Marina proponents had another go at it in 1936, when Congress authorized reconsideration of the previous negative report, and a year later the Los Angeles County Board of Supervisors ordered another study.
Now the dream was open for the dream to become reality. After World War II had put a temporary halt to planning, and more than thirty years after their first report, the Corps of Engineers submitted another study indicating the feasibility of creating a pleasure craft harbor.
But fate had something else in store for the Marina, which lost out to San Pedro in a competitive bid to create Los Angeles Harbor. From this point on, development of the Marina would focus on its evolution into a recreational small craft harbor.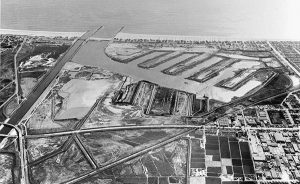 There were many obstacles to overcome, many of which where hurtled by then Chamber President Larry Norman whom is credited with bringing about harmony and cooperation between the city and county in the marina's development. Norman traveled to the state's capital several times and again to Washington D.C in order to secure funds which would purchase the harbor site. Construction delays slowed early development, and when the Marina finally opened for operation, severe damage from winter storms forced the initiation of an emergency program to provide protection from wave action.
The answer came in the form of an off-shore breakwater, and the County responded by promptly appropriating the cost and working with Congress to deliver matching funds. The final key to the successful completion of the Marina was the construction of the breakwater in January, 1965.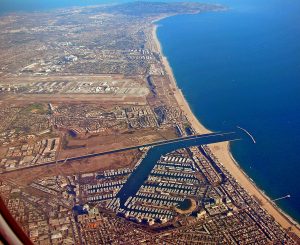 Formal dedication of Marina del Rey was held in April, 1965. It was the capstone of one man's dream that can now be shared by all who visit this multi-faceted destination.
What does Marina del Rey offer today? More than 6,000 recreational boat slips, the highest density of restaurant seating in a one-square-mile area, outside of New York City, and boat launching ramps that provide access to over 100,000 trailer-class boats annually.
Moreover, Marina del Rey is part of a vision that keeps growing. Additions during the years include more than 1,900 feet of guest boat docks, 180 feet of public fishing docks, Admiralty Park, view piers and a promenade.